Algae burger chorella, teff grain, stuffed bell pepper and sweet potato with pita / garlic / coriander sandwich and curly lettuce blend
Ingredients for a dish for 1 person
Makes this dish simple for several people by increasing the ingredients for the number of people.
1 algae burger including sweet potato

1 pita bread including garlic and coriander

½ yellow pepper

piece of winter carrot

piece of cucumber

curly lettuce blend

piece of red pepper

20 grams of leek

¼ onion

1 clove of garlic

slice of fresh djahé about 1 cm or use ground djahé

1 teaspoon of laos or fresh laos about 1 cm

1 teaspoon djintan

1 teaspoon of sambal bath robe

dash of sweet soy sauce

1 teaspoon of goela djawa

1 tablespoon of water

vegetable stock powder

50 grams of cooked (brown rice) rice

Vega mayo classic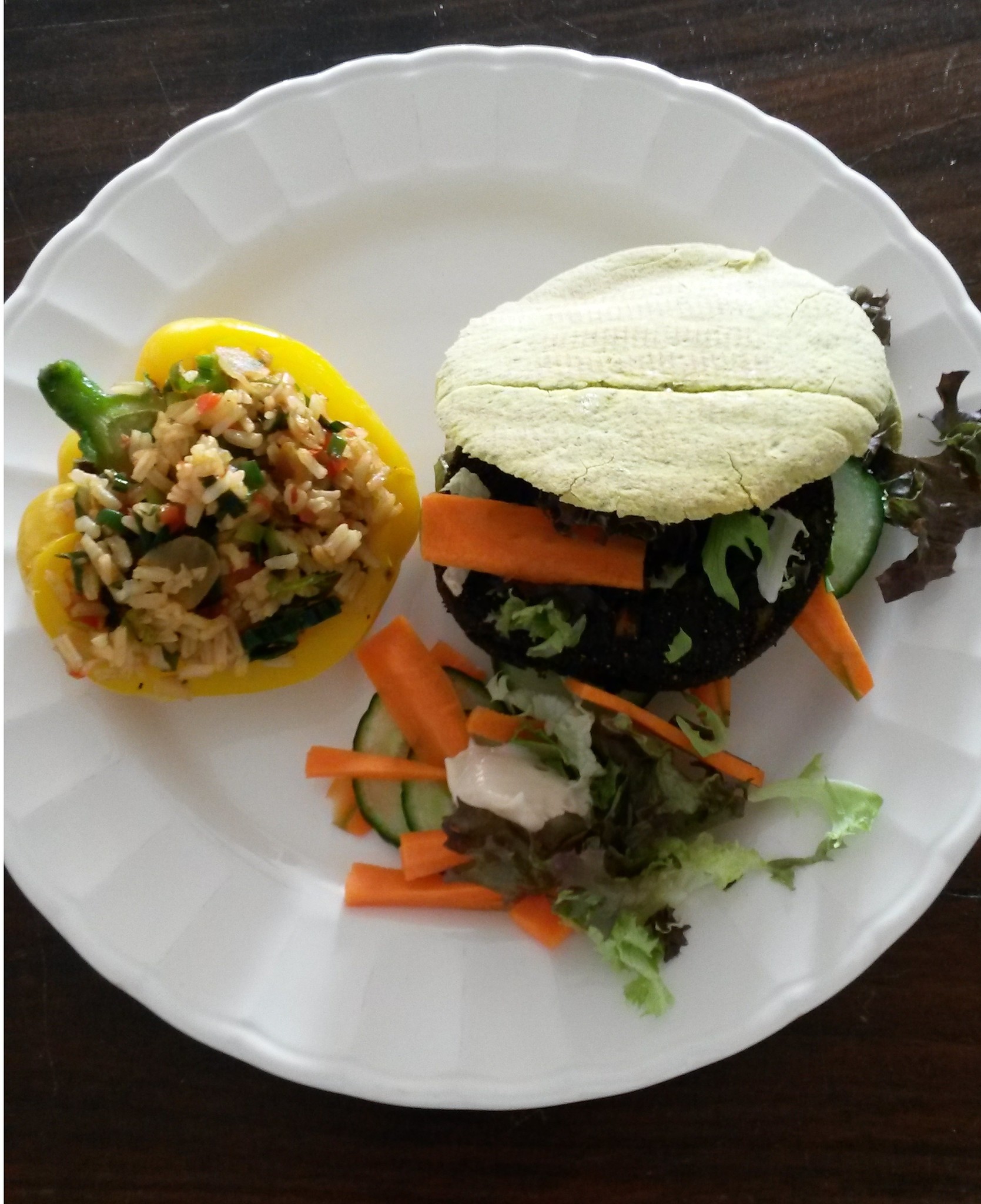 Preparation
Chop onion and red pepper. Finely chop garlic, fresh djahé, fresh laos. Cut leek into thin half rings.

Fry onion for a moment, then add garlic, laos, djahé, fry for a few minutes. Add red pepper and leek. Then add the sambal and soy sauce, mix well and add 1 tablespoon of water. Dissolve the Goela Djawa in this. Then taste whether this mixture is nice and spicy and good on taste. Otherwise add some vegetable broth or sambal. Let this reduce until all the moisture has evaporated.

Then add the cooked rice and fry for a while.

Meanwhile, preheat the oven to 200 degrees.

Cut the whole yellow bell pepper in half lengthwise (including the stem). Cook half the yellow bell pepper in some vegetable broth until al dente, making sure it stays crispy (about 6-7 minutes).

At the same time, fry the alga burger for about 4-5 minutes in 1 tablespoon of olive oil. 1x.

Fill the bell pepper with the rice mixture and keep it warm.

Cut cucumber slices and carrot strips.

Bake the pita bread in the oven for 4-6 minutes.

Cut the bun almost completely open and spread both sides generously with Vega mayo.

Put some curled lettuce, cucumber and carrot on top and the burger on top and place it on a plate.

Also put some curled lettuce, cucumber and carrot and Vega mayo classic next to the sandwich on the plate.

Also place the stuffed peppers and any remaining rice.